Guttering Melbourne
Quality Downpipes and Guttering Services – Call us today on 1300 218 889 for a free inspection and quote.
Guttering Melbourne is being exposed to harsher weather conditions. The extremes of our weather imposes much greater demands on guttering Melbourne wide. Because of this, your gutter guard Melbourne needs to be more efficient than ever. When choosing guttering Melbourne for your home, it is important to consider the profile of gutter prior to installation. Round line gutter and mini line gutter have more efficient flow rates than quad gutter or square gutter.
The common belief is that the main purpose of gutters is to stop water from pouring off your roof and onto your head! The fact is that guttering is far more important than that. Leaking gutters can cause damage to your fascias, timber trims, such as windows and doors, weatherboards and can even undermine your home's foundations!
Gutter Melbourne Profiles and Technical Information
Choosing the correct profile of gutter may be more important than you think. Apart from the obvious aesthetic differences, the shape of gutter can also control flow rate and excessive sediment build up. Check our FAQ section on guttering to identify the problems you are having and then use the table below to help you to choose the correct profile for your situation. Bear in mind that different shapes have different widths, so attached pergolas and verandas may restrict the profile you choose. There are also some colour restrictions with some profiles. If you are in doubt, our supervisors can conduct a free site inspection to help you choose your profile.
Guttering plays a vital part in protecting the foundations of your home. Overflowing gutters or inefficient gutters can be just as bad as old rusty ones with holes in them.When your gutter overflows, the excess water that accumulates around your homes foundations will, over time, cause considerable damage.
Gutter Profiles
Quad: A standard gutter profile both simple and stylish, quad gutter is the most popular profile and is what we generally recommend if there are no flow issues to rectify.

Square-line: A modern profile gutter with a very high front, ideal to conceal a high ribbed roof profile like deck steel roofs.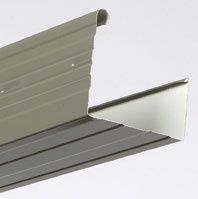 Mini-line: A streamlined shape which affords it excellent flow speed. Mini-line is ideal when your downpipes are too far apart.

Round-line: Very attractive profile with a sleek rounded shape, Round-line gutter is an excellent selection that can rectify a number of problems. The curved shape allows water to rock back and forth reducing sediment build up. Itsshape also accelerates water flow making this a perfect choice when considering gutter guard.

Nu-line gutter: also known as a fascia gutter, Nu-line gutter can only be installed on homes that have been specially built for it. Rainshield Roofing are one of Melbourne's few Nu-line gutter specialists.

Concealed gutter: Distinctive by its slanted large fascia timber that it's concealed by, this gutter requires a high level of skill to install correctly. It sits on bevelled sections of your roof's rafters that need to be re-cut or packed prior to fitting the gutter to correct the levels. It also has a history of damaging overflow either into the eave cavity and fascia timbers or into the home. This can be remedied with a series of overflow units. Fascia covers can also be fitted to the concealing timber greatly improving the home's appearance.

Guttering Melbourne Accessories
Apart from the profiles, accessories can also increase your gutters' efficiency and the aesthetic appeal of your home. Some of the more common accessories are:
Fascia covers: Fascia covers are a covering plate manufactured from Colorbond that virtually eliminates the need for both maintenance and roof painting. Streamlined and visually appealing, fascia covers will definitely improve the look of your home for decades to come.

Gutter Guards:  Please visit our dedicated gutter guards page for more information.

Rainheads: a rainhead is a catchment box that allows the water from your gutter to discharge more rapidly which in turn increase the flow rate. They are useful when there are limited downpipes or you are restricted by the profile you can choose. They also act as a gravity head of water that forces your rainwater through your storm system more efficiently. This is useful when you have a particularly large catchment area.

Spreaders: If you have a carport or other structure alongside your home or you have a split level home, you have the option of adding a downpipe to discharge your upper gutters onto your lower levels. These will require spreaders attached to allow the water to be dispersed over a wider area.

Offsets: When you have two downpipes side by side, as with a veranda or pergola type structure that adjoins your home, you can tidy things up by installing an offset and eliminating one of the down pipes.
Leaf eaters: These units are good to keep excess debris from your water tank or storm drain system when the use of gutter guard is impractical.
There are other types of gutter profiles and accessories that are available but the ones listed above are the most popular. We encourage you to take advantage of our staff's expertise in helping you to decide what products are best for your home. We will happily come out to your property (even on weekends) to assess your current needs and recommend the best system to maximise your gutters' efficiency.
Guttering Melbourne FAQs
Why is my gutter overflowing?
There may be leaves in the gutter or storm drain. You need to have the gutters/storm drain cleaned out and a gutter guard installed to prevent further issues from occurring.
The gutter levels are not correct. This overflowing water can cause rot to your fascias and eaves and also seriously affect the foundations of your home if left unchecked. Re-levelling is the solution that is required and usually replacement is the more long term cost effective thing to do.
There are insufficient down pipes for the gutter profile. A more efficient shape of gutter needs to be installed with larger down pipes and possibly rain-heads also or extra downpipes with a more extensive underground storm water system.
Why is my gutter rusting?
The protective coating on your gutter has worn off. This may be because of age, a leaf and sediment build, level issues or even a reaction with the steel in the gutter. You usually need new guttering to be installed.
Why is my roof leaking near my windows?
The gutter is overflowing into the eave and then into your home. You need to either clean your gutters or replace them and reset the levels.
Why do I have rotten fascias with paint peeling off?
Your gutters have probably constantly overflowed/leaked and need replacement. You need to either repair and re-paint your fascias or cover them with a long lasting Colorbond fascia cover.
Do I need to replace all of my gutters? 
It is usually best to do a full replacement for three main reasons. Firstly your gutter generally requires re levelling to make it efficient and so it all needs to be removed for this to happen (and you would not try to reinstall gutter after removal as it will get damaged during the removal and would not save much money anyway). Secondly, there is a reaction between the new types of gutter and the old types so partial replacement will accelerate rusting of the old gutter anyway. Finally, given the problems that occur with partial replacement, the overall cost of doing the gutter in stages is far more than doing it once and properly (and you will not have a gutter that works efficiently).
How long does the job take?
Most gutter jobs can be done within two days. This can fluctuate depending on the size and degree of difficulty involved.
How soon can I get the job done?
Being a large company, we can prioritise the more urgent jobs and come out within a week or so. The standard waiting time is normally around three weeks depending on the weather.
How much does it cost?
Many factors contribute to the cost of guttering. The size of your house, the height of the gutter from the ground, the profile that is required to make it efficient and the accessories included will all have an impact. The best course of action to take once you have ascertained that you need new gutters is to have one of our supervisors conduct an onsite inspection and provide you with a free quote.
Guttering Melbourne
We are available 7 days a week for an on-site inspection and our quotations are free of cost and without obligation. If you would like to talk to an expert about Guttering Melbourne, get in touch with us via contact form, or call us on 1300 218 889.
*Please Note: Due to a heavy influx of work and current weather conditions, we are experiencing delays of up to several weeks in quoting for the above service. We also anticipate waiting times upwards of 3-4 months before works can commence from the date of deposit payment. We apologies for any inconvenience caused.